Never underestimate the muscle strength of the push up. Many athletes have built incredible torsos with this simple exercise. It is so effective because it is a movement that requires complete stabilization of the heart and raw functionality to function properly.
The Basic Push Up
You are perhaps familiar with how to do a simple push up, but then again let's make sure we're in the right position to do it effectively. Be seated on the floor first and then on your fours. You should stand on tiptoe with straight legs. Place your hands a little wider than your shoulder.
Bend your elbows and lower your chest so that it almost touches the floor. Take a break before returning to your starting position. Tense your buttocks and make sure that your hips don't bend and are in line with your body. Your head is in the same position during exercise.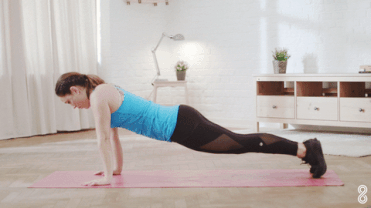 The Knee Push up
If you're just getting started, and the Baisc Push up is a bit too demanding you can always start with a knee push up.
1. Lay on your fitness mat on your stomach
2. pull up your feet
3. Position your hands shoulder's width apart on the ground
4. Slowy push up your body
5. Pauze
6. Slowly lower your torso down towards the floor