Great! you made it to week 2!
Great you made it to week 2 of the hundred push ups challenge! This week we begin we are doing 5 sets of push ups a day. Don't worry it wil be a breeze!
Drink enough water before, during and after the push ups to prevent dehydration. Be determined and hold on this week!
Remember:
Keep your back straight when your doing push ups. This improves your core muscles and is better for your body.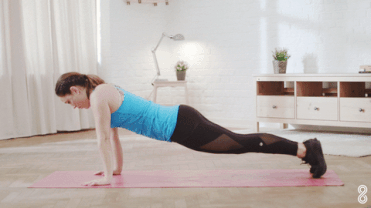 Week 2, Day 1
Take a 2 minute break after every set
| | | | |
| --- | --- | --- | --- |
| | 0 – 5 push ups | 6 – 10 push ups | 11 – 25 push ups |
| Set 1 | 5 | 9 | 13 |
| Set 2 | 6 | 10 | 15 |
| Set 3 | 5 | 9 | 11 |
| Set 4 | 4 | 8 | 10 |
| Set 5 | max (minimal 6) | max (minimal 9) | max (minimal 15) |
Week 2, Day 2
Take a 2 minute break after every set
| | | | |
| --- | --- | --- | --- |
| | 0 – 5 push ups | 6 – 10 push ups | 11 – 25 push ups |
| Set 1 | 6 | 9 | 14 |
| Set 2 | 6 | 13 | 17 |
| Set 3 | 5 | 9 | 13 |
| Set 4 | 4 | 9 | 11 |
| Set 5 | max (minimal 6) | max (minimal 10) | max (minimal 18) |
Week 2, Day 3
Take a 2 minute break after every set
| | | | |
| --- | --- | --- | --- |
| | 0 – 5 push ups | 6 – 10 push ups | 11 – 25 push ups |
| Set 1 | 6 | 12 | 15 |
| Set 2 | 7 | 14 | 17 |
| Set 3 | 5 | 10 | 14 |
| Set 4 | 5 | 9 | 13 |
| Set 5 | max (minimal 7) | max (minimal 14) | max (minimal 20) |